The Whyte House
Romantic, Luxury Cottage in Lititz, PA
$335/night
Truly, the Whyte House Cottage is THE very best romantic getaway in Amish Country Pennsylvania.
This private single-story cottage has a full kitchen and living room, a large bedroom, radiant floor heating throughout, six-foot Aquatic Claw foot air tub, and large private outdoor deck.
Located next to Speedwell Forge Lake in the woodlands of northern Lancaster County, PA. Hike through the woods, walk to the Wolf Sanctuary of PA, and relax in the beauty of nature. You can pass your time away in quiet splendor after a day of touring all that Lancaster County, PA and surrounding Amish Country have to offer. If you're looking for a romantic getaway in Lancaster, PA for a weekend or weeknight, this room is perfect for a couples vacation.
Book The Whyte House Now
Compare All Rooms
Thursday is a minimum 3 night stay. All other nights are a minimum 2 night stay.
Two guests per room only (you cannot have an extra guest sleep on the floor)
No children, toddlers, babies, or infants (no exceptions).
No pets
All guests must be 18 or older
Book Now
DETAILS
Amenities
King size bed
Air Conditioning
Radiant floor heating throughout
Spacious aquatic claw foot air tub
Full kitchen
Full sized living room
Large outdoor deck
Robes, hairdryer, wireless Internet access, a full breakfast all included at no extra charge.
Book Now
Romance
Thinking of You
Flowers
Brighten the room and gladden the heart with a lovely arrangement of fresh flowers placed in your room. Show that certain someone they are always on your mind.
INFO
Remember
Always tell your Innkeeper if you have any food allergies or dietary restrictions, such as gluten intolerance, celiac disease, or diabetes. Maybe you just hate green things or fruit! We also serve vegan, lacto vegetarian, ovo vegetarian, lacto-ovo vegetarian, pescatarian, pollotarian and yes flexitarian.
Business travelers, please let us know if you need a breakfast to go.
While you are here, be sure to visit the amazing Wolf Sanctuary of PA located on our grounds. There's also plenty of other things to do near Lititz, PA.
Visit Wolf Sanctuary Website
Other
Trivia
This house was known as the white house from the 1950s till 2013, when it was used as a farm hand house, then as a rental house.
MORE
View Additional Rooms
The Paymaster's Office
This amazing private cottage, with its floor-to-ceiling brick gas fireplace, oversize whirlpool bath, and king-size bed, includes a beautiful view of the creek and our property. It is a wonderful and serene way to unwind.
$315/night
View Room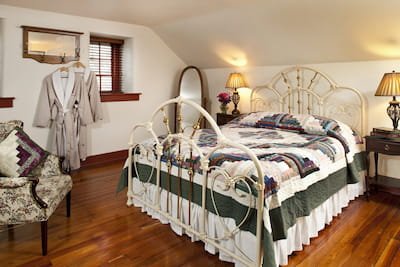 The Summer Kitchen
This private cottage rental is perfect. This private two-story cottage has a lovely cast iron queen bed and in-room whirlpool tub upstairs, and a living room and kitchenette downstairs. It also features a gas fireplace.
$295/night
View Room